Pricing
No matter the size of your business, we've got a pricing plan to match.
FuturePlus Platform
Minimum 12-month agreement. Pricing excludes VAT.
FuturePlus portfolio manager
Portfolio Manager
---
Includes identification of ESG investment priorities, access to individual and aggregated portfolio scores, bespoke sustainability roadmap, ongoing support, sustainability reporting with alignment to the UN Sustainable Development Goals. Plan excludes individual portfolio companies. Portfolio companies pay relevant fees based on number of employees.
Large
More than 5,000 staff
---
Minimum 12-month agreement. Pricing excludes VAT.
All plans include
One-on-one onboarding and ongoing FuturePlus Advisor support
Comprehensive FuturePlus assessment and dashboard
Verified evaluation of current actions and ability to set time-bound ambitions
Measure and manage sustainability against five sustainability themes - Climate, Environment, Social, Economic, and Diversity & Inclusion
Regularly updated question set to keep ahead of innovation, stakeholder expectation and regulation
Quantify and track the progress of your Actual and Ambition scores across five themes
Indicators aligned to the United Nations Sustainable Development Goals
Regular progress reminders and access to Help Hub for tips and guides
Easy-to-download scores, report and Sustainability Roadmap
Customised insights from expert advisors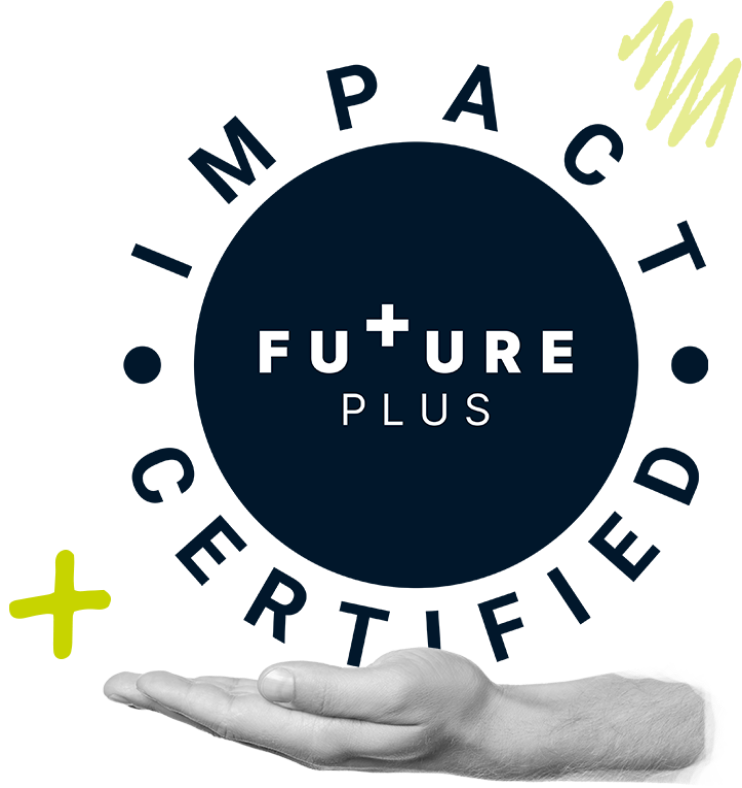 Communicating your commitment
Part of your sustainability journey is finding a way to effectively communicate your progress and goals.
On top of being able to share your report and scores, our IMPACT CERTIFIED badge shows everyone you are part of the FuturePlus community and committed to constant improvement.
Find out how FuturePlus can help your business make a positive impact