Embedding sustainability right from the start
Start-ups have a unique opportunity to embed sustainability into their DNA from day one. With FuturePlus, start-ups and micro-businesses can seamlessly integrate sustainable practices into their core operations, empowering founders and teams to proactively measure, track, and improve their performance. By prioritising sustainability from the outset, start-ups can enhance their brand reputation, attract conscious investors, and create a positive impact, all while building a solid foundation for long-term success.
Make a positive impact with Futureplus
An intuitive platform that saves you time and facilitates collaborative actions
Set, measure and quantify ambitions for positive impact – what you will do is as important as what you have done
Automatically creates a 3-year bespoke sustainability roadmap
Access to dedicated FuturePlus Advisors makes managing and achieving your ambitions easier
Assess sustainability across five themes – Climate, Social, Environment, Economic, and Diversity & Inclusion - each aligned to the United Nations Sustainable Development Goals
Auto-generated sustainability reporting makes it easy to communicate your progress
How to get started
Let the transformation begin
FuturePlus starts with an assessment of your current impact and future ambitions. Once your responses are checked and verified against best-practice frameworks, you'll receive a bespoke, time-bound sustainability roadmap with live scores to help you track your progress, and a tailored sustainability report.
FuturePlus Advisors provide support and guidance to help you along every step of your journey. Plus, you can immediately start using your Impact Certified badge to demonstrate your commitment to positive change.
Regular ambition reminders will help you keep moving in the right direction. You will also have access to our extensive Help Hub, where you can find strategy and policy guides, tips and templates, as well as details of our joint solutions partners. If needed, we also offer expert consultancy services for larger projects.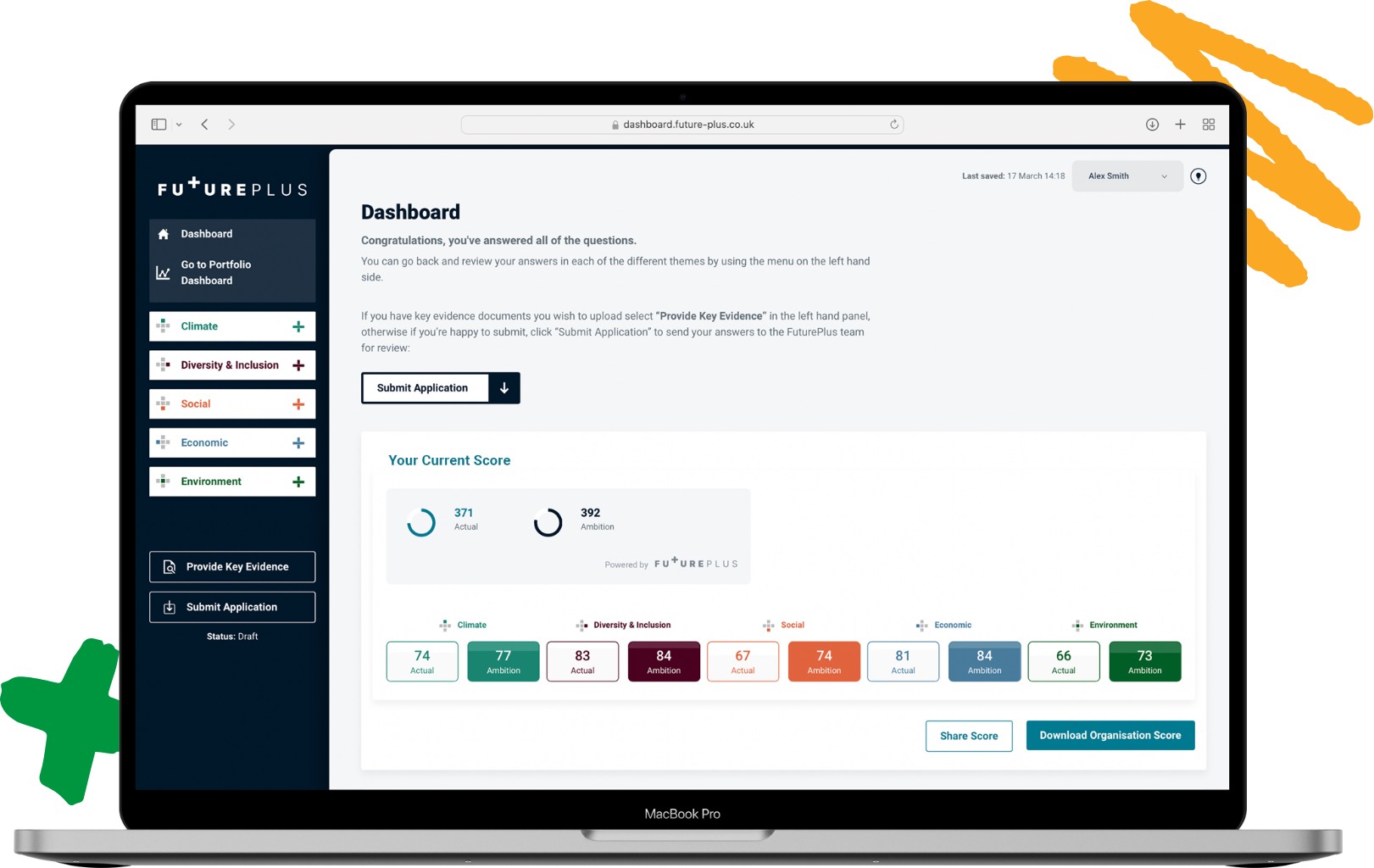 The right plan for every business
Minimum 12-month agreement. Pricing excludes VAT.
Find out how FuturePlus can help your business make a positive impact