Sustainability management and ESG reporting
FuturePlus empowers investors to measure and track the sustainability performance and ambitions of their investments accurately across comparable indicators, identifying areas of risk, unlocking untapped opportunities for growth and promoting transparent reporting. 
Our comprehensive data-driven solution provides real-time insights, robust reporting, and actionable strategies, with support from experts enabling organisations to drive positive impact. 
Unlock the potential of sustainability, align profit with purpose, and usher in a new era of responsible investing.
Make a positive impact with Futureplus
ESG Due Diligence function screens investments at the pre-investment stage
Your Dashboard tracks achievements and progress of multiple investments and portfolios in one place
Encourage transparent and accurate reporting - portfolio companies can set, quantify and measure ambition as well as current actions across comparable indicators
Actions mapped against the United Nations Sustainable Development Goals
Set benchmarks and get ahead of regulation
Provides a full view of individual company achievements and automated ESG reports at company, portfolio and cross-portfolio levels
How to get started
Let the transformation begin
FuturePlus starts with an assessment of the current impact and future ambitions of your investments. Once assessment responses are checked and verified against best-practice frameworks, your investees will receive a bespoke, time-bound sustainability roadmap with live scores to help you track their progress and a tailored sustainability report. 
FuturePlus Advisors provide support and guidance to help you and your investee companies along every step of the journey, while regular ambition reminders and access to our extensive Help Hub will help to keep the ambitions of your investees moving in the right direction. 
As a Portfolio Dashboard subscriber, you will have complete oversight of the progress of your investments and portfolios, including the ability to set benchmarks across our five themes: Climate, Environment, Economic, Diversity and Inclusion, and Social impact.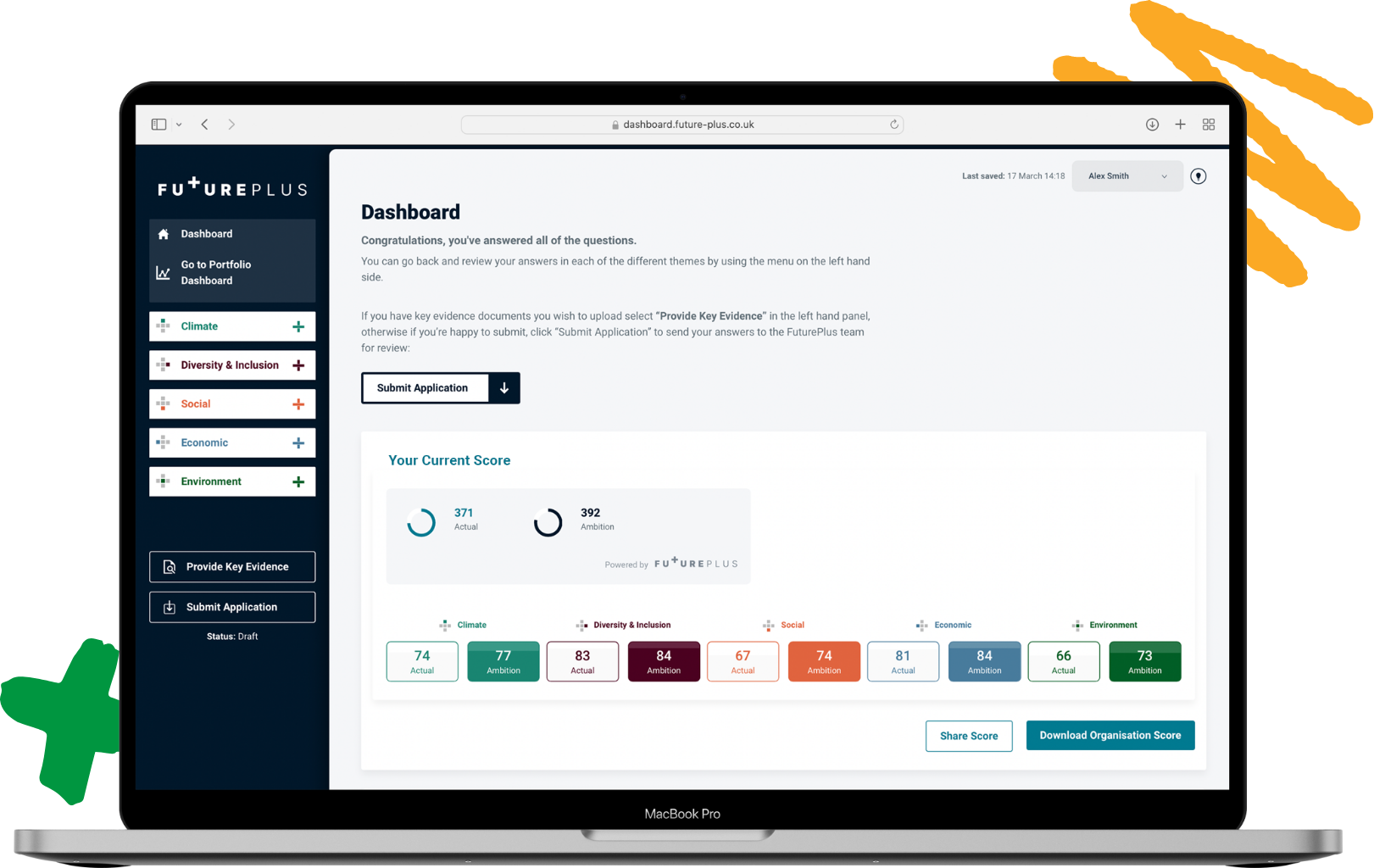 The Right Plan For Every Business
Portfolio Manager
---
Includes identification of ESG investment priorities, access to individual and aggregated portfolio scores, bespoke sustainability roadmap, ongoing support, sustainability reporting with alignment to the UN Sustainable Development Goals. Plan excludes individual portfolio companies. Portfolio companies pay relevant fees based on number of employees.
Large
More than 5,000 staff
---
Minimum 12-month agreement. Pricing excludes VAT.
Find out how FuturePlus can help your business make a positive impact