[Em]powering Sustainability
In every business
Powered by data and guided by human expertise, FuturePlus is a sustainability management and reporting platform that empowers companies, investors, and asset managers of all sizes to understand, measure, evidence, improve, and report on their sustainability impact and goals.
We adopt a future-focused view of what makes a sustainable business, assessing sustainability across five key themes: Climate, Environment, Social, Economic, and Diversity and Inclusion. We measure your current impact and what you want to achieve in the future. Most importantly, we help you get there.
Why choose FuturePlus?
Whether you're aiming to attract talent, communicate your sustainability efforts, secure investment, or prepare tenders and proposals, understanding your sustainability performance and objectives has never been more important. 

FuturePlus is the only platform that makes sustainability management and reporting accessible, affordable, and achievable for every business and investment. No other platform quantifies intent or tracks sustainability ambition in the same way we do. 
With actionable insights and data, FuturePlus helps you transform your sustainability ambitions into action. We provide ongoing assistance, advice, and resources to support you on this journey, ensuring you effectively achieve your goals.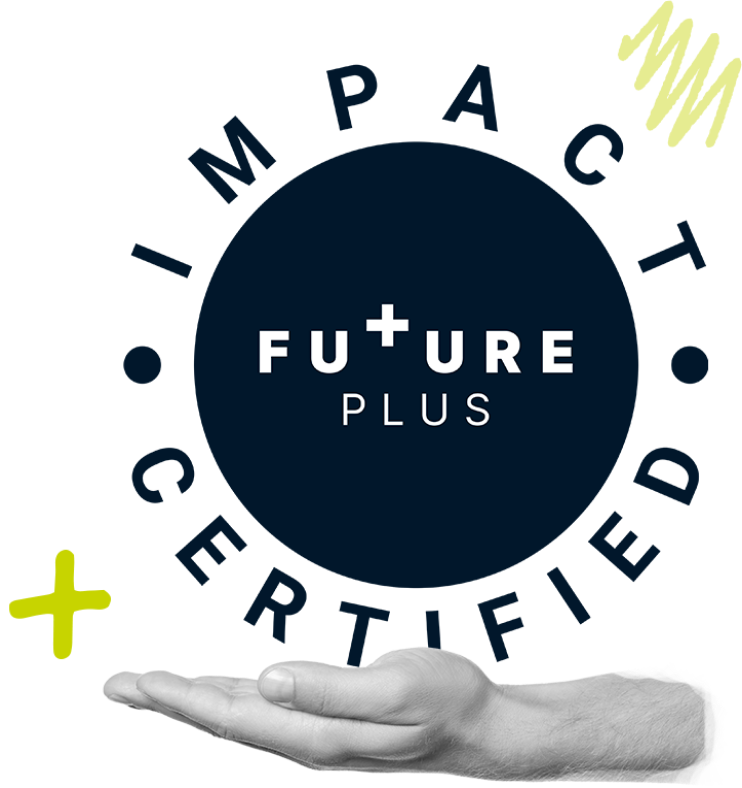 Communicating your commitment
Let us introduce the FuturePlus IMPACT CERTIFIED badge…
Communicating your sustainability goals and commitment to fostering positive change is essential for the success of your business. Embarking on a sustainability journey signifies a significant achievement worthy of recognition and celebration.
In addition to showcasing your sustainability report and scores, the FuturePlus IMPACT CERTIFIED badge is a transparent and highly effective means of illustrating your commitment to making a meaningful impact.
Once your assessment has been verified, you can display the badge on any internal or external communications, such as website footers, email signatures, packaging, and social media posts.
Find out how FuturePlus can help your business make a positive impact